Like Les Brown use to say, "Success loves speed". No one wants to join long queues in a banking hall any longer. This is why the Ghana Commercial Bank Mobile Banking Service has brought a big relief to its customers and Ghanaians as a whole.
First, it was the ATM. Now it is the Ghana Commercial Bank Mobile Banking Service. This allows you to enjoy banking services from your mobile phones, right from your home, office, or wherever you find yourself. This is awesome, right? Yea!
What is The Ghana Commercial Bank Mobile Banking Code?
For those who want to enjoy the speed here as well, let me give you a quick answer. The shortcode for GCB Mobile Banking is *422#.
Just like most other banks, for instance, the Ecobank, GCB is catching up with the technological trends. If they do not innovate, I am sure they would be overtaken by the other banks, just like they took over UT and Capital Banks.
For those who want to know the real details of this mobile banking service, let us dive in further on how to use it to your advantage.
How to Use The Ghana Commercial Bank Mobile Banking Service
If you follow this procedure of using this service, you would love it. You may not waste time going to the bank any longer. Below is a screenshot of what to expect after typing *422# on your phone: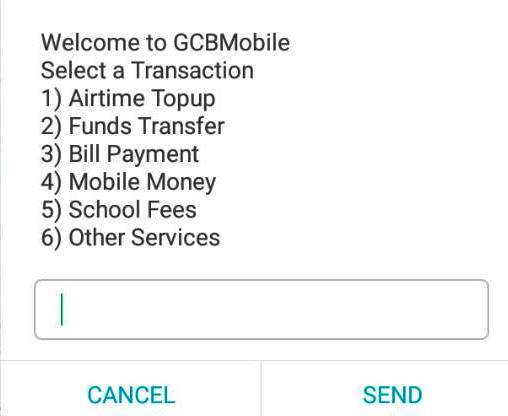 Type *422# and hit enter on any phone or network. (You must first be registered with the system at the bank to enjoy this benefit).
You should see the options just like the screenshot above.
Make your choice and follow through.
Options Details:
Airtime Topup – for transferring airtime from your bank account to your phone.
Funds Transfer – for transferring money from your bank account to other bank accounts (GCB to GCB only).
Bill Payment – To pay bills such as Multichoice, Utility, Internet Bundles, Postpaid Services, or Insurance Premiums.
Mobile Money – The Mobile Money Option allows you to transfer money from your bank account to your Mobile Money Wallet. You can also transfer funds from your Mobile Money account to your GCB Bank account with the same option.
School Fees – This option enables you to pay your school fees if your school is registered on it. You need to enter your school code to go ahead with it.
Other Services – Other services include balance inquiry, statement, and pin change.
Worth checking out: How to Create a PayPal Account in Ghana.
Thank you for passing by. I have other equally important articles coming up on money transfers. You may want to subscribe to get first-hand information.