Max International has come to stay in Ghana, and honestly speaking, it is the best way to make money in this 21st century.
Though the company's objective is to empower people to experience better health, success, and significance, my focus is on the financial success part, for now.
Let me say emphatically that majority of people who join Max and are making it big only had the aim of achieving financial freedom.
What is Max International?
In short, Max International is a Multi-Level Marketing (MLM) company or a Network Marketing company.
It is known commonly as "The Glutathione Company". What is Glutathione? Your body naturally produces glutathione for preventing cancer, heart disease, dementia, and other chronic diseases.
As you age along, or the more you take poor diets, toxins, medications or get stressed, your glutathione levels deplete. And that is when Max comes in with its life-changing food supplements to increase lost glutathione levels.
Not only that, you also get financial freedom as you continue to become an associate of this great business.
Max International Office in Accra, and Kumasi
Max International has offices in Accra and Kumasi. The head office is located on the Garden Road in East Legon, Accra. This is a direct link to the company office on Google Maps. Below is the pictorial view of the head office: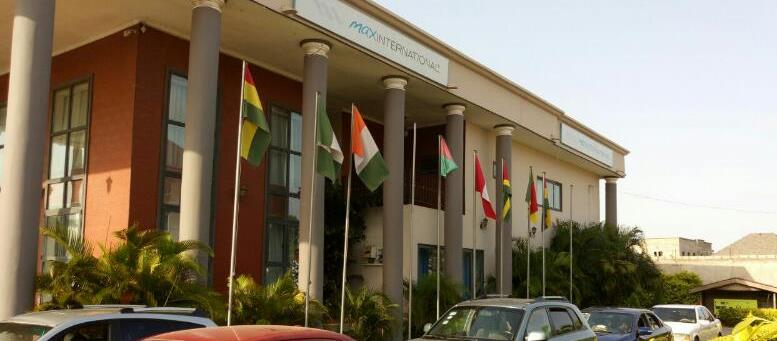 In Kumasi, Max has a new ultramodern office near the Ahodwo roundabout.
The Max International Opportunity
Looking at what a lot of people have achieved out of Max, it is very strange to say no to such an opportunity.
I believe this is an opportunity that everyone should take advantage of, especially those of you who have heard about it, or those reading about it now.
Even if you are paid 5,000 Ghana cedis a month from your job, you'll continue to take that amount for the next ten years. With Max, you can make a significant exponential amount of money month after month.
Check out the list of products in one of my posts on Max International products.
How to Join Max International
You can only join Max International through someone who is already a member or associate.
You can join Max with 700 cedis today. Attend a Max Business presentation first to understand the business before signing up. Check out the presentation venues and time from the link below:
Max Business Opportunity Meeting Venues and Calendar.
You cannot understand the business on phone. Seriously, if you cannot attend the business presentation, there is no way you can do the business.
Please note that before you chat with me, you should be ready to attend the presentation. You should also be able to afford the registration cost. And should be ready to join my team for further training.
For those who need assistance with our presentation venues, registration, and further training, you can chat with Mr. Boaz on WhatsApp using this chat link.
Find out from the link above if you are in one of the locations listed.
What is the hidden truth about Max International? Just like any network marketing business, your success depends greatly on your team or the person who registers you. We have the best team that can make you successful in Max.
Why Join Max International?
Like I said in the beginning, most people join max for financial freedom. There are people who have attained high ranks in the company. These ranks fetch them thousands of Ghana cedis every month. That is financial freedom. You make money while at home.
Starting a business is not very easy, especially in Ghana. With Max, you can actually start your own network marketing or associates business with a not too high startup capital. And the company is registered, so there is no need to fear.
Check out a picture of the head office in East Legon in the company introduction above. There is also an office in Kumasi, at Asokwa, Ho, and Sunyani.
There are weekly training sessions and Business Opportunity Meetings all over the country. Contact me for venues of the training centers.
All you need now is to join, attend the training sessions, get active and then you continue to earn residual income, month after month.
Even if you are not ready to join now, but hoping to join in the future, it is important to start attending the free training sessions to understand more about the business.
Making Money From Max International
There are 8 ways you could get paid when you are an associate.
There are different associate ranks as shown in the picture below. Your rank determines how much you get paid. Because it is a network, the more you help your team members to grow, the more money you make.
Max International Compensation Plan
Below is a PDF of the Max International Compensation Plan:
Max-International-Compensation-Plan.pdf.
Final Words
Not everyone can start his own business considering the costs of business registration, renewal, tax payments even if you're not making profits.
In the 21st century, investing in a bank has not many returns. The best way to invest is through network marketing.
When you begin now, you continue to enjoy the fruits of your labor all the rest of your life.
If you do it well in the beginning, you win forever.
If you really understand the business of Max International, you don't wait for people to beg or force you to join. You look for where and how to join.
Attend a Max Business presentation near you today (Click for details).
Like the Max Facebook page.