There are a lot of current jobs in Ghana. In this article, I will show you how to easily get job vacancies in Ghana within a short time. If you are in school, you can actually get employed even before graduating from the University.
Don't tell people to create their own jobs if you haven't been in their shoes. I tell you it is not easy to start your own business when you have no startup capital. Not at all.
This is why a young man or woman needs a job that can help save in order to set up his own business.
This job can be a stepping stone for his dreams, obviously.
There are a lot of current jobs in Ghana. Are you asking me how I got to know?
Check out: 9 Profitable Business Ideas in Ghana.
Where are The Current Jobs in Ghana Located?
So long as the world hasn't come to an end. There is a job for everyone.
So long as there are a lot of people who spend an extravagant amount of money on goods that are not really useful, there should be a job for you.
The only problem is identifying them in the country, a good one of course to suit your educational qualification.
Follow me as I walk you through how to identify these jobs to make a living.
LinkedIn Job – Current Jobs in Ghana on LinkedIn
I didn't like LinkedIn that much until they started suggesting current jobs to me. To be frank it is the best way of getting a job in Ghana.
I realized that all their job suggestions were perfectly related to my skill set.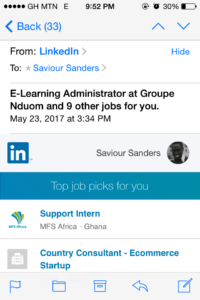 Sometimes I felt like quitting my current job and applying for these jobs.
This is what you should do. Add your skills to your LinkedIn Profile and subscribe to the LinkedIn Jobs page for alerts. It is as simple as that.
You would start to get notifications in your mail for the best job offers.
Pray For Job Vacancies in Ghana – It Really Works
One best advice I have for people looking for jobs in Ghana is prayer.
Right after school, don't just go and chill. Sit down to ask yourself: What next?
After asking yourself that question, you'd get to know that, it's very difficult to answer it alone.
These days, most people have come to realize that, prayer is the key to every situation.
Let me tell you that; hip life artistes, those we think are not religious, even pray.
Current Job Vacancies in Ghana
Jobberman Current Jobs
Job List By Industry from JobsInGhana
In the above links, you can find all the current job vacancies in Ghana that have been posted on the websites.
Check out: How to Make Money Online in Ghana.
Thank you for reading. Please show some love by sharing this article. Hoping to meet you one day in your workplace.