This is a public announcement for the upcoming Ghana Card following the launch of the Ghana Digital Address system. Read below for all the information you need.
PUBLIC ANNOUNCEMENT!!!
GHANA CARD REGISTRATION FOR ALL GHANAIANS TO BEGIN IN NOVEMBER 2017 => DID YOU KNOW? ARE YOU READY?
Come November 20, 2017, the National Identification Authority (NIA) will start issuing instant smart National ID cards under a very strict multi-level verification process.
The ID card, dubbed Ghana Card, is meant to be the primary ID card that citizens will use to access all services in the country, including even traveling within the West African sub-region.
It will be the only valid ID for application for a bank account, passport, telephone number, property acquisition, drivers license and many more.
The registration exercise will begin in the Greater Accra region and move to other regions in the country.
The presence of Ghana card will eliminate the usefulness of all other cards possessed as Ghanaians.
What is The Ghana Card?
The Ghana Card is a national identity card that is issued by the Ghanaian authorities to Ghanaian citizens – both resident and non-resident, and legally and permanently resident foreign nationals. It is proof of identity, citizenship and residence of the holder. The current version is in ID1 format and biometric.
Features / Details On The Ghana Card
FRONT VIEW:
i. "REPUBLIC OF GHANA"
ii. "National Identity Card"
iii. Surname
Iv. First name
v. Middle Name(s)
vi. Sex
vii. Date of Birth
viii. Height
ix. Randomly generated Personal ID Number (PIN)
x. Date of Expiry (normally 10 years after the date of issue)
BACK VIEW:
a. THIS CARD IS THE PROPERTY OF THE GOVERNMENT OF THE REPUBLIC OF GHANA. IF FOUND PLEASE CONTACT THE NEAREST NIA OFFICE OR POLICE STATION
b. Holder's signature
c. Serial Number
d. Flying eagle to the right of the card.
e. Holder's biometric and personal information stored in a 2-D barcode which can only be read with a card reader.
NB: The Ghana Card contains second and third level security features by the NIA (National Identification Authority): On the photo a micro-holographic reflecting stamp is placed. The back contains the machine readable zone. The
microchip, inside the card contains biometric data such as fingerprints of the holder, the image, signature, etc. The data can be extracted from the chip with wireless RFID technology. The ID card serves as a travel document for national travel. The validity of the card is 10 years and is compulsory for citizens over 16.
VISIBLE IMAGES ON THE CARD
a. Ghana Flag to the left top corner
b. Ghana's Coat of Arms to the right top corner
c. Ghost portrait of cardholder
d. Main portrait of image of cardholder
e. Map of Ghana
Pictures of The Ghana Card
Front View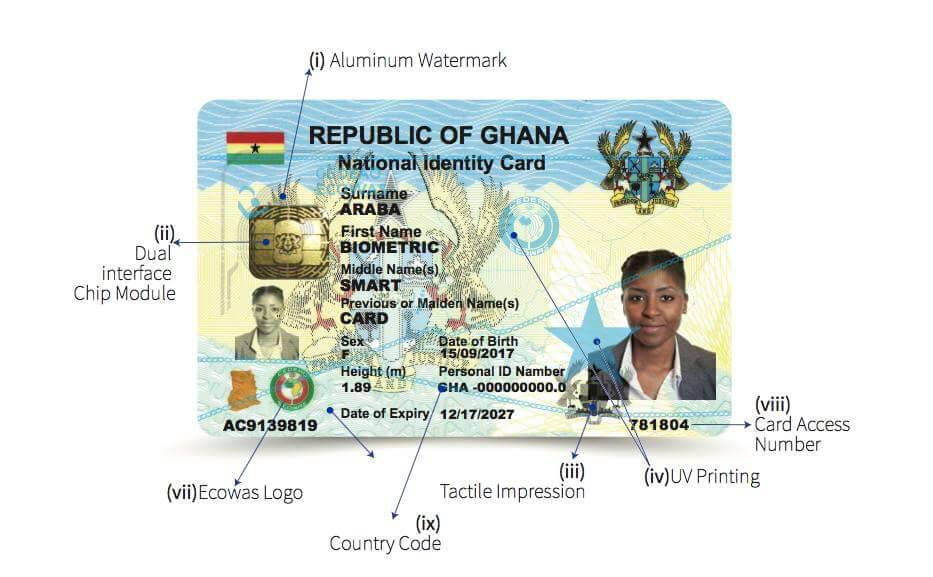 Back View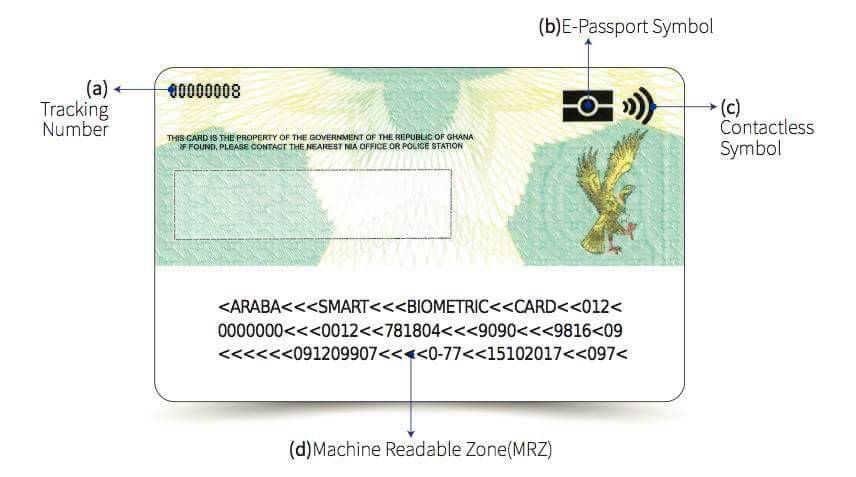 ISSUING PROCEDURE
The identity card is requested at the districts (and is issued for free to all Ghanaians ) where a digital picture of the bearer's face and fingerprints are taken. The card should be picked up in person after 15 days, where the bearer identifies himself/herself with his/her fingerprints.
Benefit, Importance or Usefulness of the Card.
1.Health Delivery: The personal identification number (PIN) and biometrics/personal information is cross-checked with the existing data in the National Identification System during a Ghana Card holder's National Health Insurance Scheme (NHIS) registratio
2. Passport Acquisition: Any time a Ghana Card holder applies for a passport, their personal identification number (PIN) is captured on the passport and their personal information cross-checked with the data in the National Identification System. A Ghana Card holder may not be able to acquire a passport if they do not possess the Ghana Card. This is because only people who qualify to hold Ghanaian passports will be issued with one since the individual's nationality can be properly checked from the National Identification System.
3. Acquisition of Driver's License: The personal identification number (PIN) is one of the required information the Driver and Vehicle Licensing Authority (DVLA) demands as soon as the Ghana Card is issued to applicants. The PIN is captured on a Ghana Card holder's driver's license and vehicle registration documents. The personal information is also verified from the NIA to determine a persons true identity for license acquisition and establish the true identities of vehicle owners. A time will come when a person may not be able to make new registration or renewal at the DVLA without their Ghana Card.
4. Shipping and Clearing of Goods from the Port: All goods a Ghana Card holder exports out of Ghana or imports into Ghana is directly linked to their personal identification number (PIN) to eliminate fraud and theft in the shipping and clearing of goods at the ports and harbours of Ghana.
5. Receipt of Banking Services: A Ghana Card holder can use the card as identity verification document when opening bank account, withdrawing money from the bank, or receiving money transfers in Ghana. It is easier for a Ghana Card holder to take loan from the bank whether they work in an identifiable institution or not. This is because their identity can be easily verified and the banks are confident that they can be traced in the event of loan default based on their PIN or biometric information stored on the Ghana Card.
6. Credit Information: The use of the Ghana Card can enable the banks in Ghana to easily establish persons credit-worthiness from the Credit Referencing Agencies any time they apply for a loan. This may lead drastically to the reduction in bank rates on loans since the banks can establish whether they are already servicing a loan from another bank which will result in a reduction in the incidents of bad debts.
7. Registration of Business: Business registration is linked to a Ghana Card holder's PIN to help identify them as the true owner of their business. The Registrar General's Department make it a requirement for all business owners to provide their PIN on the Ghana Card during business registration. This eliminates business registration fraud through the exposure of false identities and prevents multiple registrations of businesses for fraudulent purposes.
8. Education: The PIN of a Ghana Card holder's child is captured during enrollment into primary school and the number is used for admission into every school level until the child completes tertiary education. This helps in tracking the progress of a Ghana Card holder's child in the educational sector for necessary policy interventions. It prevents a persons Ghana Card from by a replaced, and unqualified ones by some school authorities during admission. Students who qualify for student's loan are able to use the Ghana Card to establish their identities to eliminate fraud. Data from the NIA database enables the Ministry of Education to plan effectively for the provision of targeted educational infrastructure and other resources for their community.
9. Job Search: The Ghana Card is used to establish a persons identity during job search. This boosters their chances of getting the job as employers will be sure they are dealing with the rightful owner of the certificates a person provides in support of their qualifications.
10. Disaster Management: Identification of true victims of disasters is often problematic because there are infiltrators who take advantage of the absence of credible identification system to benefit at the expense of the affected ones. Data on a persons Ghana Card is used to establish whether they live in an area affected by a disaster to enable them to receive relief items.
11. Access to Social Services: The Ghana Card authenticates a persons entitlement to government services. Services such as LEAP payments and free National Health Insurance Scheme (NHIS) registration for persons below 18 years or above 70 years is made dependent on the presentation of the Ghana Card.
12. Protecting the Rights of Children: Child trafficking especially for forced labour is on the increase in Ghana and children get lost daily. It has been very difficult to establish the identities of children rescued from human traffickers or those found in the streets to re-unite them with their parents. Since a Ghana Card holder's child's fingerprints and parents' information are stored in the national database, it is easier to return a Ghana Card holder's lost child to them when their live fingerprints are taken and matched into the NIS.
13. Electoral Registration: During voter registration, a Ghana Card holder's PIN is captured for the authentication of their citizenship, name, age and residence to determine whether they qualify to vote or not.
14. Travelling: The Ghana Card is used to validate a persons identity at airports, borders, police check posts and while booking tickets. The emerging Ghana railway travel may require a person to carry their Ghana Card especially if e-tickets are introduced.
15. E-Commerce & Payment Industry: The Ghana Card is used in a multiplicity of situations – to register for offline services such as a loan or an insurance plan, while buying a car. There have been past issues raised about Know Your Customer norms for Cash Cards like E-zwich and ATM Cards. The Ghana Card is likely to be made mandatory for the validation of all payments. Ghanaian companies currently offering m-commerce transactions such as Tigo Cash and the Airtel Zap service used for sending and receiving money, topping up airtime, transferring credit to others, paying utility bills as well as goods and services using the mobile phone opt for the Ghana Card as a verification document.
16. Pension Claims: As identity theft occurs when someone uses a persons personal information, such as Social Security number without their permission to commit fraud by claiming their benefits or that of a relation. The Ghana Card identifies a Ghana Card holder as the rightful and only person authorized to receive their pension benefits. In the event of the Ghana Card holder's death, only their children or spouse named on their Ghana Card will benefit from their pension claim.
17. SIM Card Registration: With previous generations of ID Cards one of the key issues with the directive by the National Communications Authority for registration of all SIM cards for getting a mobile connection has been the verification of the individual getting the connection. Particularly in urban areas, and with a migrant population in Ghana, authentication of individuals has been an issue; as a few people did not possess any ID at all. So the Ghana Card has become the acceptable verification document for mobile connection.
D18. Hire Purchase: The Ghana Card is used in establishing a persons identity when making hire purchase arrangements as it contains their digital picture and biometric information that conclusively establishes their identity in addition to their personal and residential information.
K19. Insurance Claims: As a person needs to prove their identity in the event of any disaster for which they have to make insurance claims. The Ghana Card provides them with the necessary information they need to conclusively establish their identity.
A20. Remittances from Abroad: Identity theft happens in many ways: a thief obtains credit card receipts or bank statements from your wallet or trash; personal information is inadvertently provided over the phone or Internet; or other confidential information. Before a person even realizes their personal information has been compromised, their credit and goods is claimed by fraudulent persons. The use of the Ghana Card and PIN in claiming goods and monies sent from abroad has been designed to prevent unauthorized persons from claiming what is due to the Ghana Card holder
Read this too: Ghana Zip Code; What is the Zip / Postal Code for Ghana?