Usually, you log in to Google Webmaster tools; what is now called the Google Search Console with your Google account to submit your URL to the number 1 search engine. In this article, I would show you how to submit URL to Google without signing in.
UPDATE: You'd need to be signed in to your Google account to get this to work. Google changed this feature few weeks after this article was written. Thanks.
There are two ways to going about it. I usually submit each of my post URLs to Google right after hitting the publish button. The procedure involved with this is quite long. If for instance, you published five posts in a day, you'd need to be logging in after each publication to submit your URL.
There are simpler methods to going about it. Here they are:
Two Methods of Submitting URLs to Google Without Signing In
Using the public submit URL form. Click on the link above or visit https://www.google.com/webmasters/tools/submit-url to submit your URL in a simple and fast way just like the screen below: 
Searching for the term "Submit URL to Google" on Google. This will show the screen below in the form of the Google Answer Boxes you see for some queries on Google search: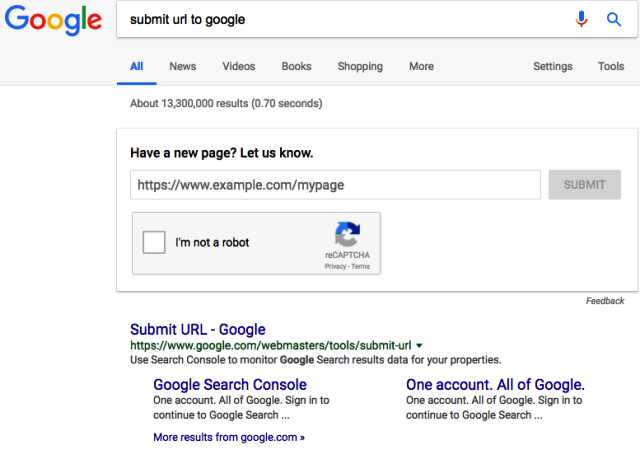 The Google Answer Box
The Google Answer Box is a new way Google displays search results on the front page for some search queries. Though it is a very useful tool for Google and some few sites, this prevents searchers from clicking through to other sites on the first page of Google.
Why is it Useful for Google?
This feature enables Google to show the best possible answer to users. This prevents them from researching on other sites for answers that best suit their queries. For instance, if I search for "What is the age of Obama", I get a straight forward answer without even clicking the pages to read through before coming to the main answer.
The Google Answer Box may be useful for a few sites who are able to get contents from their pages. These websites have their contents chosen as the answer for the query. It is, therefore, necessary to take advantage of these and get your answers on google before someone gets there.
Now, you can submit your URL to Google without signing in.To learn how to get contents for your website used for a Google Answer Box, subscribe to my future posts on that topic.